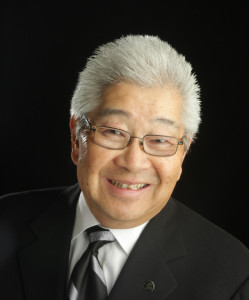 The Inukai Family Foundation was established in honor of Richard Michael "Dick" Inukai.
Born May 25, 1943 to Tom and Mecha Inukai in a Japanese internment camp in Tule Lake, California, Dick's parents moved to Hood River while he was an infant, and later relocated the family to Portland where his father owned a gasoline service station.
A graduate of Madison High School, Dick joined the Marine Corps where he served four years as a reserve. Eventually, Dick's love of cars drove him into the automobile industry in 1962 when he took his first job with a local auto dealership as a salesperson.
Dick quickly established himself as a top salesman and worked his way up the ladder. Inukai found his way into ownership with his first auto franchise at the young age of 30.
Coming to Hillsboro in the early 1970's, Inukai later acquired what is now known as Dick's Country Chrysler Jeep Dodge and in 1994 became a full partner in Dick's Mackenzie Ford. Hard work, honesty and integrity were the foundation of Dick's business dealings which quickly endeared him to the local business community. Dick's philosophy on running his business was simply never asking anyone to do something he would not do himself.
Inukai devoted much of his work in the community to dozens of organizations with causes that impact children, such as providing books and readers to elementary schools through Operation Outreach; providing food, gifts and adopt-a-family coordination during the holidays for the Domestic Violence Resource Center; and with Hillsboro Parks and Recreation.
In 1997, Dick joined the board of directors of the Citizens Crime Commission of Portland. Upon his appointment to the board, he quickly began tackling problems involving youth and led efforts to strengthen the Portland Police Bureau through increased staffing and greater emphasis on community policing. Inukai also helped establish the Homeless Youth Assessment Committee, which received nationwide recognition for its work to boost resources and services for the area's homeless teens.
For his outstanding corporate citizenship, Ford Motor Company named Inukai among nine recipients of its 2004 'Salute to Dealers Award', established to demonstrate a commitment to its dealer principals who work to improve the lives of those in their communities.
Dick's passion for serving kids led to his greatest contribution in supporting the rebuild of the Hillsboro Boys and Girls Club, now called the Inukai Family Boys and Girls Club, earning him 'Philanthropist of the Year' from Hillsboro Chamber of Commerce in 2006. Inukai was honored by the Hillsboro Chamber with two additional awards in 2003 and 2004, being presented the 'Honorable Business of the Year Award' and the 'Bob Herb Leadership Award', respectively.
Inukai's roots drew him to the Japan-American Society of Oregon (JASO), serving as a member for over 20 years. In 2000, Inukai was instrumental in taking an active role when a large number of Asian businesspeople and travelers were being mistreated, detained or turned away at the airport by the US Immigration and Naturalization Service. Inukai's efforts resulted in increased relations between the Asian community and INS.
Aside from philanthropic support of his community, Inukai continued to further the automobile industry through involvement in professional and trade organizations. He served on boards such as the National Dealer Council, Dodge Advertising Association, Metro Portland New Car Dealers Association, National Auto Dealers Association, Ford Minority Dealers Association, National Association of Minority Automobile Dealers and Dealer Election Action Committee. Among the many awards Dick has received, in 1999 he was recognized by Time Magazine as Oregon's nominee for its prestigious 'Quality Dealer Award.'